Thursday, May 5, 2011
Had we tasted it blind, I might've thought it was a Sancerre. Seriously. Hardly a grapefruit in it...


Posted by

Matt Uva
at 7:14 AM
1 comment:

We are very fortunate to have in our employ Erv Dworkin. Erv has forgotten more about Scotch than many of us will ever know. In his "previous life" he has worked as a bartender on a private train, selected whiskeys for one of the world's pre-eminent restaurants, and was (in my opinion) the original food blogger with a newspaper column in Philadelphia focusing on the internal workings of Philly's restaurant scene. He counts two of the world's leading liquor experts, Michael Jackson (Whiskeys) and David Suro (Tequila), as personal friends.

My personal journey through Single Malt began recently, and with the tutelege of Erv, has been quite enjoyable. I asked him to come up with a "Single Malt 101" kit -- 4 or so bottles, at or around $200 total, that would give one the best primer into the world of Single Malt.

Here's what he came up with...



SINGLE MALT SCOTCH RECOMMENDATIONS



These selections are presented in order of progression from lightest to heaviest and recommended to be tasted in that order (1-4)


1. The gateway to the world of single malt scotch whisky opens in the region known as The Lowlands. A traditionally softer, lighter, unpeated style, Lowland malts are the perfect entry level introduction to the category. A primary reason for this easy going profile is the traditional practice of triple distillation as opposed to the normal double distillation of all other scotch producing regions, resulting in a lighter, smoother, more delicate, less assertive whisky.


Recommendation: Auchentoshan "Classic" $35.99 (no age declaration) Aged in traditional first fill bourbon casks (charred American white oak) Light, fragrant, slightly grassy with vanilla and coconut flavors.


Second choice: Glenkinchie 12 year old Lowland $59.99


2. The next stop on our spirited journey brings us to the mecca of malt scotch: The Highlands, home to the largest proliferation of distlleries in Scotland, and probably on earth. The heart of the Highlands lies along the banks of the river Spey, hence the sub-region known as Speyside. Generally known for rich, elegant, malts, the multitude of distilleries boast multiple bottlings of different ages, wood finishes and nuanced styles. The choices are myriad and mind boggling.


Recommendation: Glenfarclas 12 year old Highland Speyside $49.99 An introduction to sherry cask finishing (as opposed to bourbon as with Auchentoshan) this expression delivers a fruity, spicy sweetness with a hint of peatiness and an elegant sweet sherried fruit finish. A rich, full-bodied, balanced, well rounded example of classic Speyside malt whisky.


Second choice(s): Take your pick but you can't go wrong with Glenmorangie "The Original" 10 year malt wrought by the famed "Sixteen Men of Tain" $44.99, this one, bourbon barrel finished with notes of citrus, orange, vanilla, almonds.


3. Due north of the Highlands and a short hop off the coast lies the Isle of Orkney. Here we encounter the northernmost distillery in Scotland, and one of the best, Highland Park. What distinguishes this whisky is its embodiment in one incarnation of so many of the individual traits that are prized in the firmament of malt scotch. Possessing the finesse, elegance, and richness of The Highlands and Speyside, yet emboldened with the heretofore unvisited power, pungency and maritime influences of Islay (our last stop) and the other outlying island ditilleries, this exquisite whisky exhibits a balance, bounty, and beauty of repertoire that moved the late, great maven of malt whisky, Michael Jackson, to proclaim it "the greatest all-rounder in the world of malt whisky". 'Nuff said. Sherry finished, peat fired, rich and full flavored without going over the top, this is a must have.


Recommendation: Highland Park 12 year old, Isle of Orkney $49.99


Second choice: Oban 14 year old Highland malt $59.99 The westernmost coastal Highland distillery exhibits many of the traits seen in Highland Park. Smooth and elegant with restrained power.


4. Islay, an island off Scotland's southwest coast is home to the most pungent, full-flavored, smokiest malts of the realm. Often characterized in terms such as iodine, sea salt, brine, smoke and heavy peat they represent the top end of the malt scotch flavor spectrum.


Recommendation: Bowmore 12 year old Islay malt $49.99. This selection is based on a more middle of the road style, relatively speaking, offering a milder expression of the genre, still representative of its power but more easily approachable than the bigger boys.


Second choice; If you want to experience the Isaly "big bang" then by all means, venture into the wild world of Laproaig, Lagavulin, or Caol Ila.



ED/AYSE2011


the prices mentioned above are based on CT's "going rate" and, like all things in life, are subject to change...

Posted by

Matt Uva

at 5:30 AM No comments:

Wednesday, May 4, 2011
Liquid Geography
or, How to Conduct a Home Wine Tasting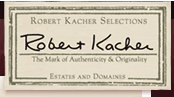 Two recent additions to the store come to us from
Robert Kacher Selections
. "Bobby", as he is known in the wine business,
tasted
his way through Southern France in lieu of College. When he began importing, he literally would just max out his credit cards on his favorite wines from the South of France and resell them to restaurants in the DC area. Over the years, his import portfolio has grown, and through working directly with the growers and winemakers, has assured the quality of any wine carrying the Robert Kacher Selections logo.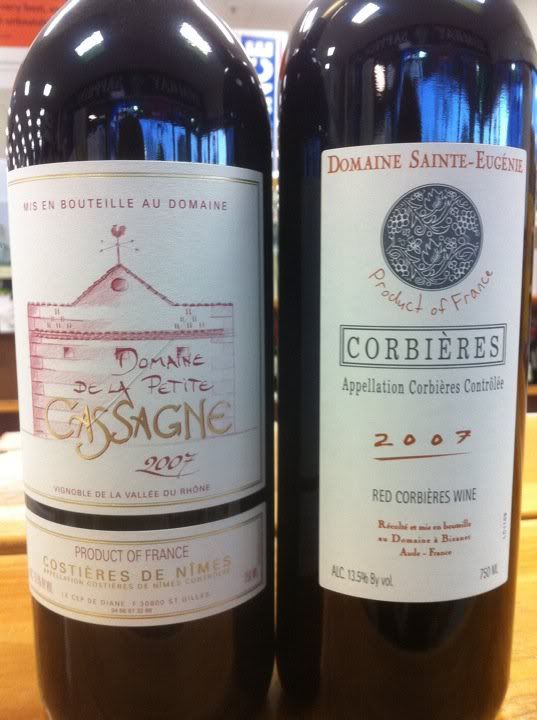 The two wines we brought in are the
2007 Domaine Sainte-Eugenie Corbieres
and the
2007 Domaine de la Petite Cassagne Costieres de Nimes
. Both are stunning examples of terroir-driven wines that are at once both Old World and
approachable
to "American" palates. It is my firm belief that these wines need to be tasted side-by-side.
Both wines are 2007, a dry, warm, and sunny vintage in the region. Both wines are 40% Carignan, 30% Grenache, and 30% Syrah. The definitive differences here are geography -- the two
Domaines
are about a 40 minute drive apart -- and use of oak.
The Corbieres is predominantly old-vine (65+ years) in a Mediterranean Coastal area with an 800 year history with viticulture (It's my guess they have it
down
by now). On the nose one finds crushed flower petals, bright, expressive, red fruit, and mild tobacco notes. The palate continues with the red fruits, and a total of 2 years in oak adds toast and spicebox elements that lead into a rich chocolate finish.
The Costieres de Nimes comes from slightly further inland, closer to the Rhone Valley. The nose of this wine shows earthy, woody elements and plenty of black raspberry -- darker fruits than the Corbieres -- before giving way to a palate of cassis and cherry that is velevety smooth and continues into the finish. The "woodiness" is impressive, given that this wine is 100% stainless steel fermented and aged.
If you plan on tasting these side-by-side at home (please do!), get some friends and grab plenty of glasses. Pour the Costieres de Nimes on the left and the Corbieres on the right (start with the 'Nimes). Take your time smelling and tasting the wines, going back and forth between the two. Be sure and leave some in the bottle to repeat your experiment again in an hour to see how the wines have evolved.
You can download tasting notes on the wines
here
and
here
.
Mistaken Identity
or, How a "Wine Guy" Ends Up on the Couch
A few years back, while working for a wine distributor in CT, I was asked to fill in for one of Kacher's people at a tasting at the Omni in New Haven. I LOVE Kacher's wines and jumped at the opportunity. It was a "round robin" tasting, with tables set up around the room and plenty of Reps pouring their wines.
Each Rep wore a nametag with the name of his or her employer on it, so for example, the guys from Slocum and Sons had "Slocum and Sons" on their nametags. I think you see where I'm going here...
Here I am, pouring the wines at a table with a sign that says, "Robert Kacher Selections". On each bottle were the words, "Robert Kacher Selections". Here's this kid rapping up and down about the wines, with gusto and passion, all while wearing this nametag that says, "Robert Kacher". People began calling me "Bobby" and "Mr. Kacher", and I'll be honest, I was having so much fun with it that I didn't correct anyone.
Word gets out that the
actual wine importer
is over at one of the tables, and throughout the evening my table became the
must see
at the event.
Meanwhile, my wife had never been to an event that I had poured at, and was excited to have grabbed last minute tickets.
So, she walks in with a buddy of mine and his wife and she begins to look around to spot my table. Off to the right she sees a table that is about 30-deep with, what do the
kids
call them,
Cougars
?, and says, "That better not be
his
table,"....
Needless to say, it was me and the cat on the couch that night.
Posted by

Matt Uva
at 8:43 AM
No comments: